Tanzania to Join IRENA
Tanzania Renewable Energy Association (TAREA) has been advocating for Tanzania to join international renewable energy organizations. Tanzania is already a member of the International Solar Energy Alliance (ISEA) with a head office in New Delhi, India.
On 19.10.2023, TAREA representing mainland Tanzania's renewable energy private sector, participated in the stakeholders' engagement meeting with the Tanzania Parliamentary Committee for Energy and Mines to present arguments as to why Tanzania has to join the International Renewable Energy Agency (IRENA). The agenda was presented to the Committee by the Deputy Minister for Energy, Hon. Judith Kapinga (MP).
On 31.10.2023 the Deputy Prime Minister and Minister for Energy, Hon. Doto Biteko presented the agenda in the Parliament of the United Republic of Tanzania. The Parliament voted to support the motion.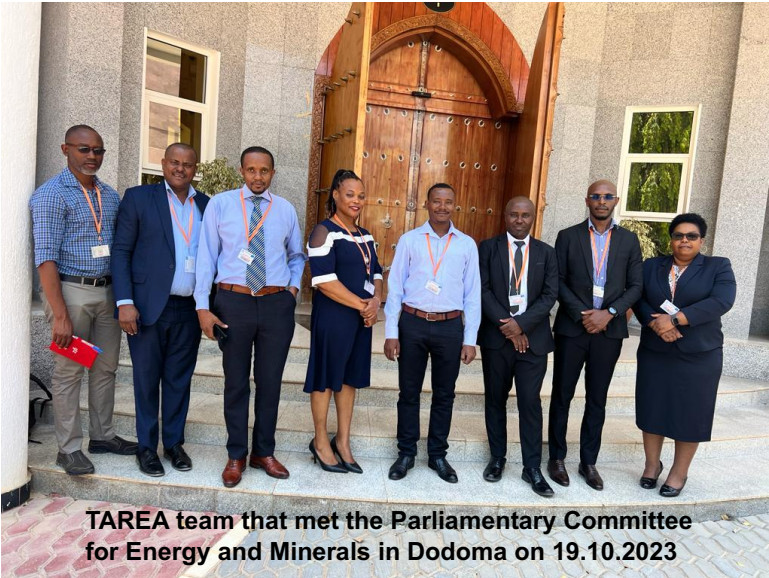 Joining IRENA, Tanzania will benefit the following.
i) Global Energy Transition
By joining IRENA, Tanzania would align itself with the global energy transition which is at the core of IRENA activities.
ii) Economic Benefits
IRENA member countries that have experienced economic growth through renewable energy initiatives commit to supporting countries, especially in Africa.
iii) Energy Security
Membership in IRENA can help Tanzania enhance its energy security and reduce dependence on fossil fuels.
iv) Technical Assistance and Capacity Building
Tanzania can benefit from IRENA's expertise in renewable energy technology and transfer, policy development, and project implementation. Tanzania at the moment has several initiatives that need this capacity-building assistance, for example, the Energy Efficiency Strategy and Action Plan, Energy balance statistics, MEPS (Minimum Energy Performance Standards), Public Private Partnerships in Renewable Energy Projects, Development of large renewable energy generation projects (solar, wind, green hydrogen, geothermal and co-generation).
v) International Collaboration
Joining IRENA would enable Tanzania to collaborate with other member countries on renewable energy research, innovation, and best practices.
vi) Access to Funding
IRENA can facilitate access to funding and financing mechanisms for renewable energy projects.
TAREA has also joined the international organization that promotes renewable energy of International Solar Energy Society (ISES) which has the head office in Germany.